U četvrtak 22.02. u Business Centru Networks održano je otvaranje programa Nagrada za društvene promjene u Bosni I Hercegovini, namijenjenog mladima koji žele da pokrenu društveni biznis.
Program Nagrada za društvene promjene (Social Impact Award) podržali su: Američka Ambasada, BTD, Networks, Coca Cola Hellenic, Fondacija Mozaik, Američka privredna komora u BiH i drugi.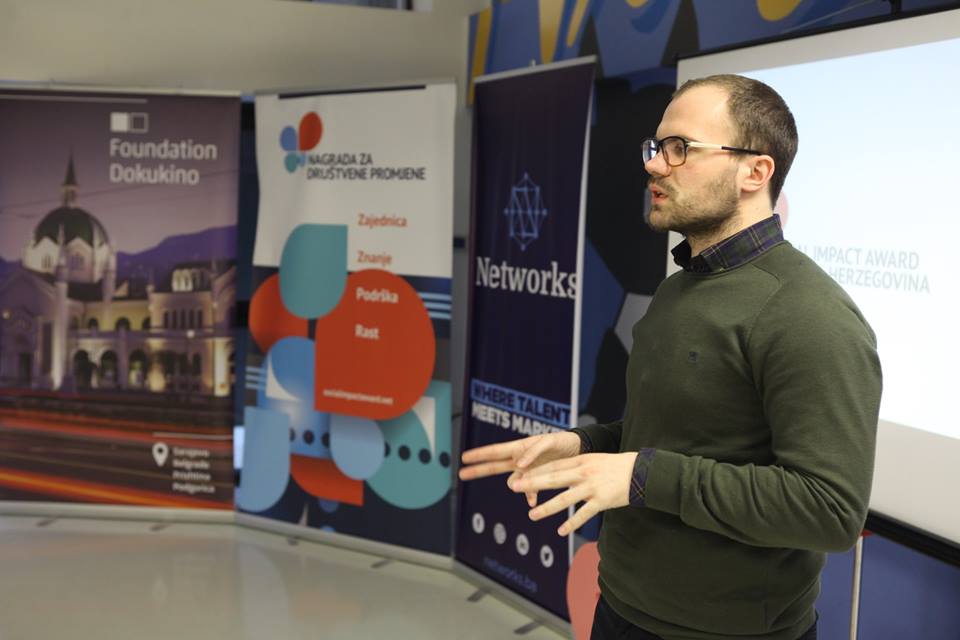 Mladim preduzetnicima, koji žele da pretvore svoje ideje u održivi biznis, obratili su se i prošlogodišnji pobjednici Social Impact Award programa, koji su uz finansijsku i mentorsku podršku razvili uspješne društvene biznise iz oblasti tehnologije, turizma, ekologije i zajednice. Oni su im prenijeli svoja iskustva i predstavli svoje biznise koji su nakon godinu dana u narednoj fazi razvoja.
Nagrada za društvene promjene (Social Impact Award) najveći je europski projekat, posvećen studentima i studenticama na temu društvenog biznisa. Misija projekta je promocija društvenog preduzetništva među mladim ljudima. Suština ovakvog biznisa jeste poslovanje koje donosi zaradu, ali istovremeno rješava neki od društvenih  problema, bilo da je riječ o zapošljavanju ugroženih društvenih skupina ili rješavanju problema lokalnih zajednica.
Ovaj program dio je šire inicijative Fondacije Dokukino kroz koju će nekoliko stotina mladih širom Bosne i Hercegovine i ove godine dobiti priliku da razvije  i prijavi svoje ideje. One najbolje će dobiti novčane nagrade u iznosu od 1,500 eura i internacionalnu mentorsku podršku za razvoj i pozicioniranje na tržištu.
Za dodatne informacije o prugramu možete se obratiti na  bosnia@socialimpactaward.net ili na +387 60  319 4883
Almost there
You need to register in order to submit your bulletin & vote.
We care about your privacy.
Read Privacy Policy .
× close